Savvy Collaboration:
SEO strategy

existing content optimization

new content creation

email nurture sequence
Background:
24 Seven wanted to improve its Google page ranking for high value search terms, drive website traffic, and increase time spent engaging with keyword content.
Approach:
The Savvy Marketing Communications team and 24 Seven's Marketing Director took a step-by-step approach to optimizing 24 Seven's website for the key SEO term "hire marketers." This included identifying existing content that could be optimized with the key term, creating new key-term optimized content, and developing a Hubspot pillar page that presented all of the optimized content in one place.
A content pillar page is a comprehensive landing page based on a key word or search term, where the searcher can read what they need on a topic in one place. The page offers hyperlinks that lead the reader along their buyer's journey, from attention, to interest, to purchase. Unlike a website, a pillar page has no distractions – it is serving up just the content the reader wants to see, with strategically placed hyperlinks and calls to action to drive purchase.
Results:
After launching the pillar page in April 2021 and promoting it through email campaigns and social media channels, 24 Seven's page rank improved from page 4 to page 1 of Google search results for the term "hire marketers." In addition to improving page rank, the pillar page also saw 4x more traffic and visitors staying 2x longer on the page compared to other website pages. Overall, the SEO-driven pillar page was successful in improving 24 Seven's Google page ranking, driving website traffic, and increasing time spent on the page. The firm also continued to add to the pillar page as new content with the search term was developed over time.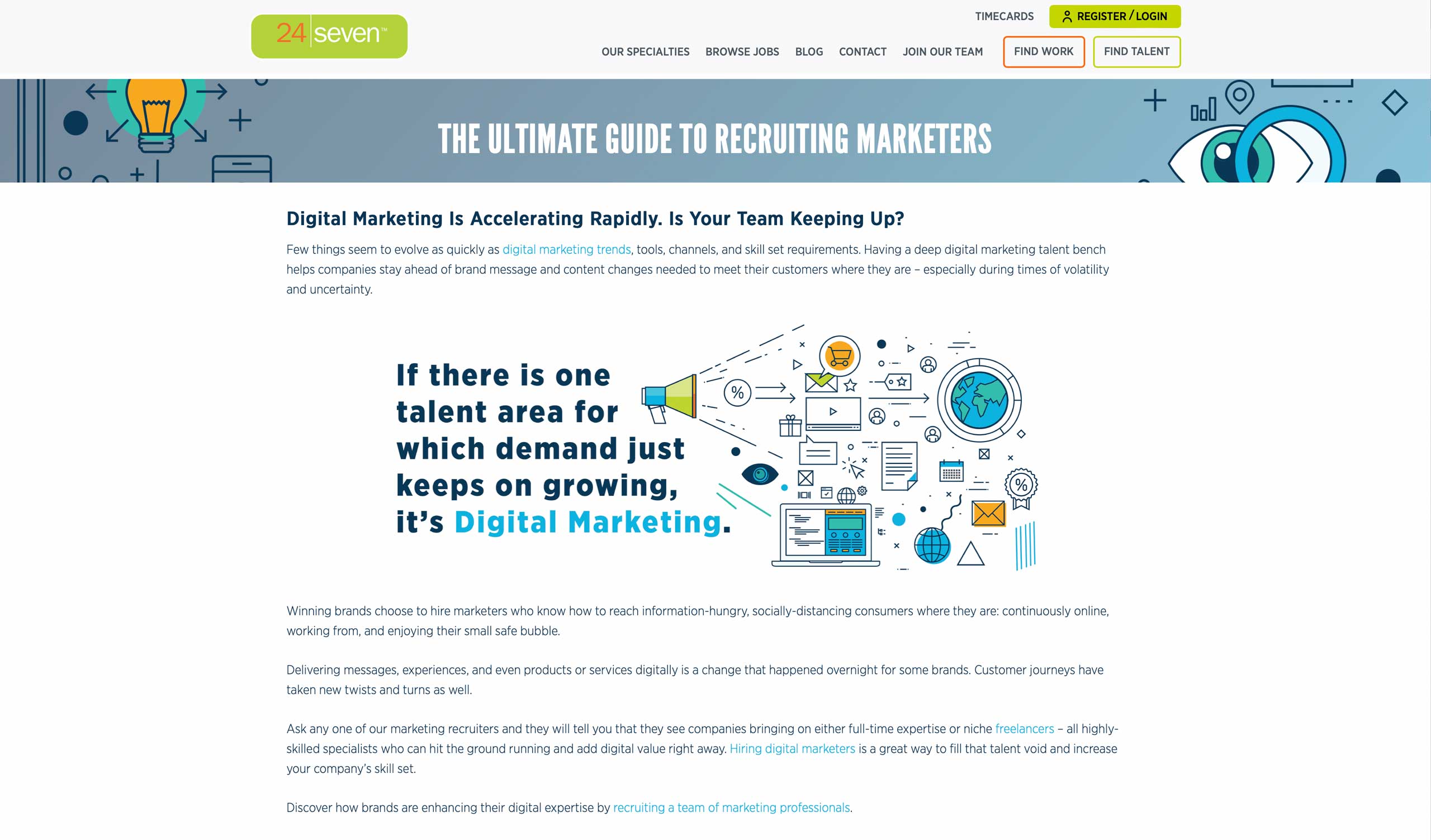 We scale our Marketing team to each client's objective.

And they love it.
We were generating content for content's sake. But working with Savvy, we developed buyer-centric brand strategies that inspired marketing executions that led to greater client engagement & better inbound marketing leads. The content pillar pages that resulted exceeded our performance expectations.